Worm-resistant sheep 'could save industry millions'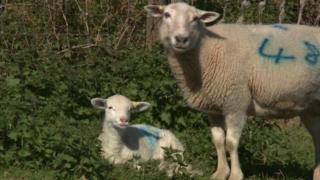 South West farmers who have created a new breed of worm-resistant sheep say it could save the industry over £30m a year.
Six farmers from across the region have spent more than 10 years selectively breeding the Exlana sheep.
Breeds from the tropics were used to create the animals which require fewer anti-worming chemicals.
Dartmoor farmer Peter Baber said the species would save farmers thousands of pounds a year.
In time and money it can cost a farmer £3,000 a year to treat their sheep.
Lambs are infected with worms by eating the larvae in the grass.
Mr Baber said: "The measurement we did last year found the ewes are putting out 50% less (worm) eggs post-lambing."