Plymouth police treated after 'inhaling extinguisher powder'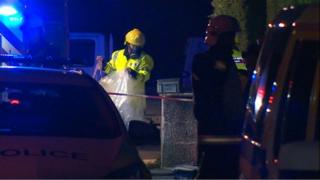 An "unknown powder" inhaled by two police officers, causing them to taken to hospital, has been identified as fire extinguisher powder.
Officers found "a large amount" of the substance, "which caused stinging to the eyes and throat", in the Plymouth flat.
The occupant was also treated after officers raided the Merrivale Road property on Tuesday.
Officers and firefighters were called to reports of a burglary and vandalism.
The three were treated for minor skin irritation and respiratory issues but have since been discharged.
The property was under police guard and a cordon was in place until the powder, which came from an "older-style extinguisher", was identified.
Ch Supt Andy Boulting said: "The occupant of the property could not identify the powder and our officers had suffered side effects as a result of entering the premises.
"All of the necessary precautions and actions were taken to safeguard the public and establish the identity of the powder.
"The matter will now be investigated as an act of burglary and criminal damage."