Teenage death prompts Devon and Cornwall 'garage watch'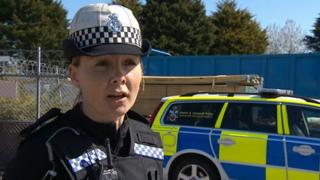 A teenager's death has prompted police to set up a "garage watch" scheme to trace drivers involved in crashes.
Officers aim to gather evidence about drivers trying to get cars repaired by lying about the cause of damage.
Devon and Cornwall Police will message details of vehicles suspected of being involved in crashes to garages signed up to the scheme.
The project was devised after a fatal collision in Dorset where a motorist tried to cover up a crash.
'Vital evidence'
PC Abi Bedson said: "With this scheme we have for the first time a way of alerting all garages, body repair shops and breaker yards to any suspicious or wanted vehicle.
"The aim is to prevent drivers from getting away with an offence on the quiet, while allowing us to seize vital evidence."
Police said more than 500 garages had signed up to receiving a recorded phone message, fax or email as an alert.
PC Bedson said she was inspired to set up the scheme by the case of Brian Hampton, who was jailed for six years in September 2013 for causing the death of 16-year-old Jade Clark.