Slapton service to remember Exercise Tiger 71st tragedy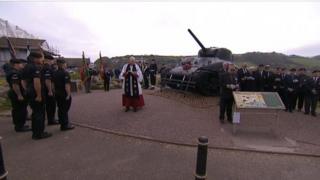 Hundreds of US servicemen who died off the coast of Devon during a World War Two training exercise have been remembered at its 71st anniversary memorial service.
Exercise Tiger was staged at Slapton Sands on 28 April 1944.
A total of 749 servicemen died when convoys training for the D-Day landings were attacked by German E-Boats.
Surviving veteran John Casner and other families flew over from the United States to attend the service.
It took place next to a tank, raised from the seabed, which has stood in Torcross since 1984 as a memorial to the men who died.
During the war, US forces requested somewhere in the UK to practice for the D-Day landings in Normandy.
Some of the commanding officers mistook the German attack for part of the exercise and the operation was kept a secret during the war because there were fears news of it would damage morale.
Exercise Tiger survivor John Casner, said: "I happened to be on watch when the thing happened. This brings back memories of that.
"It was frustrating for a serviceman, we could see them firing machine guns at us and they wouldn't let us fire back.
"We found out later the captain thought something went wrong with the manoeuvres."
Laurie Bolton, who organised the trip, said: "I've been coming here for many years. My uncle's body was never recovered and for the families this is a tangible place to come and pay tribute so it's very important to us.
"It's very overwhelming and heartfelt and rewarding because they care so much.
"They come out every time to remember, it really means a lot to the survivors and the families."