Crush death firm DS Smith admits safety breach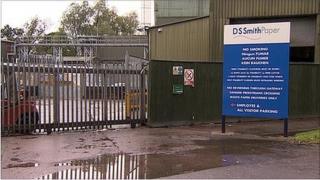 A paper company has admitted breaking safety regulations after a manager suffered fatal injuries when he was pulled into a machine.
John Stoddard, 41, from Cullompton, Devon, was "flipped up" and pulled into the machinery at the DS Smith mill in the town in 2011.
He was taken to the Royal Devon and Exeter Hospital where he later died.
DS Smith Paper Ltd pleaded guilty at Exeter Crown Court to breaching safety law.
The firm admitted failing to prevent access to dangerous machinery in the second-stage press area of the paper mill.
However, the company pleaded not guilty to a more serious charge of failing to discharge its duty under the Health and Safety at Work Act by failing to ensure a safe working operation.
Malcolm Galloway, prosecuting on behalf of the Health and Safety Executive, said the plea to the lesser count was likely to be acceptable, but told the judge a final decision would be notified to the court within two weeks.
Greater Devon coroner Dr Elizabeth Earland recorded a verdict of accidental death at an inquest in Exeter in May.
The inquest heard he may have been running his hands along the moving belt on a machine, which produces large rolls of paper from liquid pulp.
Nigel Hayter, the company's human resources director, said after the inquest: "We deeply regret the loss of a valued colleague and our thoughts remain with John's family and friends."