Election 2015: Labour loses control of Plymouth council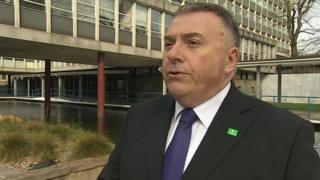 Labour has lost its narrow majority at Plymouth City Council meaning no party has overall control.
Labour lost one of its seats in the local election, leaving them one short of being able to remain in control at 28.
Conservatives have 26 seats and UKIP have three. Party leaders are due to meet to discuss the way forward.
Labour remains in control of Exeter City Council as they party won nine out of the 13 wards in the election.
'Remarkable'
Leader of Plymouth's Labour group, Tudor Evans, retained his seat in Ham.
He said it was "remarkable" the party had "bucked the trend" after the national Conservative Party landslide.
"People were expecting us to go under and we didn't," he said.
Before the final result was known, Conservative Party group leader Ian Bowyer refused to rule out a possible coalition with UKIP - the only other party on the council.
In Exeter, former city centre manager John Harvey won the Alphington seat for the Conservatives.
Former council leader and Liberal Democrat group leader in the city, Adrian Fullham, lost his council seat.