Teams cross Dartmoor's Ten Tors challenge finish line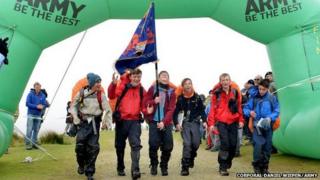 Teenagers taking part in the annual two-day Ten Tors challenge across Dartmoor in Devon have crossed the finish line.
About 2,500 teenagers aged between 14 and 19 hiked distances of up 55 miles (89km), visiting 10 nominated tors.
The first team to cross the finish line was from the Combined Cadet Force at Churcher's College in Hampshire.
The teams left Okehampton Camp at 07:00 BST on Saturday and must complete the challenge before 17:00 BST.
The challenge is organised by the Army and assisted by the Royal Navy, the Royal Air Force and the Dartmoor Rescue Group.
A spokesman from the group said about 150 members had assisted and there had been a "handful" of sprained ankles and minor injuries, but nothing major.
Organisers said Radzi Chinyanganya and Lindsey Russell from Children's TV programme Blue Peter also took part, with the third presenter, Barney Harwood, also present at the event.
Ten Tors
The first Ten Tors expedition took place in September 1960
Over the years interest in the challenge has grown and now up to 400 teams take part
Camping overnight, the teams complete the challenge without adult guidance
In 2013, the challenge saw its most significant overhaul in 30 years as Army bosses attempted to improve safety and reduce the number of river crossings
During the challenge teams visit 10 nominated tors, which are hills or rocky peaks.
Source: BBC/Ten Tors