Torbay litter fines up after private firm takes over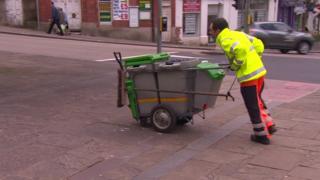 The number of fines issued for littering in a seaside resort has risen sharply since a private company took over.
More than 600 people have been fined for dropping litter in Torbay or not clearing up after their dogs since 3GS started a pilot project in September.
That compares with 110 fines by the council's officials for 2014-15.
On Thursday, councillors agreed that 3GS would get another two years in the role from this September.
Torbay Council gave a contract to 3GS to support its existing team of street cleaners and dog wardens.
Three uniformed enforcement officers patrol the bay area and issue £80 on-the-spot fines.
'More focused'
A council spokesman said the revenue from the fines pays for the 3GS service.
Robert Excell, the council's head of community services said: "If you live in an untidy place you have an untidy mind, in my view.
"If you tidy a place up the tourists come which is really important.
"Now we are looking at fining people if they don't have their dog on a lead."
Paul Buttivant, managing director of 3GS, said the wardens were not being over-zealous.
"Neither the council nor my company makes the legislation, that is made by central government but councils have other priorities," he said.
"We are enforcing legislation that's been around for donkey's years in a more focused way.
"And the council is getting a service that does not cost them anything."