Princess Yachts £1m fraud: Three jailed in Plymouth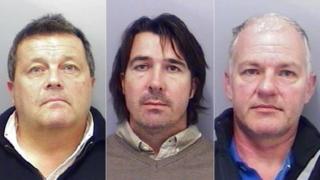 Three men who plotted a £1m fraud against a luxury yacht builder have been jailed.
Glyn Thompson, 57, Darren Tallon, 43, and Roger Truen, 49, siphoned off the cash from Princess Yachts in Plymouth from 2010-2013.
Thompson was jailed for six years, Tallon for four years and six months, and Truen for 40 months.
The fraudsters conspired with contractors to set up false invoices or grossly overcharge the firm.
Michael Honey, 51, and John Tinley, 48, were also sentenced to 14 months suspended for two years for their part in the plot.
Thompson and Truen worked for Princess Yachts with the other men acting as contractors.
Thompson, of Thornbury Park Avenue, Plymouth and Tallon, of Elfordleigh Farm, Plympton were found guilty of two counts of conspiracy to defraud, at the end of a three-month trial in February.
Truen, of Mitchell Close, Plymstock, Honey, of Pemros Road, Plymouth, and Tinley, of Langstone Road, Plymouth, all pleaded guilty to two counts of conspiracy to defraud.
A confiscation hearing will be held to try and reclaim the stolen money.