D-Day veterans awarded France's Legion d'Honneur in Devon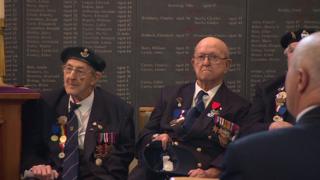 Four British war veterans and a military widow received France's highest decoration at a ceremony in Devon on Wednesday.
The Legion d'Honneur is awarded in recognition of heroism in the country's liberation in World War Two.
Clifford Coates, Dennis Small, Len Husband, George Laity, and the widow of Norman Johns received the medal.
Alain Sibiril, Plymouth's honorary French consul, presented the awards at RMB Chivenor.
Mr Coates, 91, from Bideford, who is a former Royal Marine, said his memories of the D-Day landings were as clear now as they were in 1944.
"They'll never be forgotten. It was such a colossal undertaking and a fantastic event.
"We all never thought we were ever going to get ashore. The weather was extremely atrocious."
He said receiving the award was "absolutely out of this world".