Neighbours blast 'unfair' school fines for term-time holidays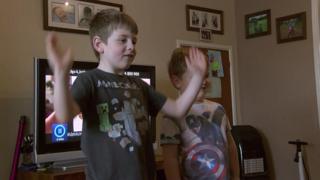 Neighbouring mothers have branded holiday fines as unfair after one family was charged for taking their child out of school during term-time, while the other was not.
Sharon Griffiths was fined £60 for taking her son out of school in June.
Kelly Redman, who lives in the same street, allowed her daughter to go to Spain in the same month, but was not fined.
Devon County Council said it could not explain the discrepancy.
An education expert said the current system of fining for absence was "a postcode lottery" for parents.
Read more on this story as it develops throughout the day on our Local Live pages
Ms Griffiths, from Starcross in Devon, told the BBC it was the first occasion she had taken her seven-year-old son, Jack, out of Kenton Primary School for a holiday.
She ignored the fine and ended up paying £400 in court costs.
"I feel really angry, really angry," she said. "I was adamant that I was not going to pay that £60 fine."
Neighbour, Ms Redman, whose 11-year-old daughter Emelia attends Starcross Primary School, said she told the school she was taking her daughter out in term-time and was warned she may face a fine but nothing happened.
She added she did not understand how schools could "fine one family but not another".
The council said it had to meet statutory responsibilities but could not explain the different responses.
Education professor Debra Myhill, from Exeter University, told the BBC the fines system was "arbitrary" and "like a postcode lottery".
A Department for Education spokesperson said there were fewer than 200,000 pupils regularly missing school compared with five years ago.