Sidmouth churchwarden Graham Booker spared jail for attack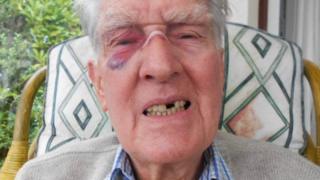 A "mad bull" churchwarden who attacked an 85-year-old former policeman has been spared jail.
Graham Booker, 68, shoved Richard Hadley to the ground and then kicked him in a row over a path next to his Methodist church in Sidmouth, Devon.
Exeter magistrates jailed Booker for eight weeks, but suspended the sentence for 12 months.
Booker, of Windsor Mead, Sidmouth, was found guilty of assault over the attack on the path last October.
The assault followed a long-running dispute with the church over rights of way along the path, which goes to the rear of Mr Hadley's property, the court heard.
Mr Hadley told the court he was adjusting the metal gate which led to his property next to the church when Booker came racing out of a church fire door screaming: "Get off the property, you have no right to be here."
Mr Hadley admitted swearing at him and turned his back before Booker shoved him and sent him sprawling to the floor.
He said:"My nose hit the ground. It was streaming blood, I lost a tooth. I must have been knocked out for a few seconds. I was flat out, prone on the ground.
"Booker was standing over me and kicked me."
Booker was ordered to pay £300 compensation and £630 costs.