TV's Robson Green helps save Devon cliff man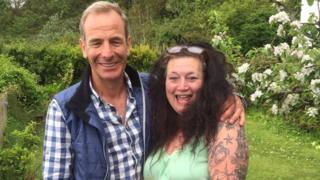 Actor and TV presenter Robson Green has been involved in a dramatic cliff rescue.
He was filming in Clovelly, north Devon when a man in his 70s was found 60ft (18m) down the cliff.
The star heard his cries for help and tried to reach him before coastguards airlifted the man to safety.
His spokeswoman said he "only did what anyone else would have done in the circumstances" and did not consider himself a hero.
Read more on this story as it develops throughout the day on our Local Live pages.
Coastguards said they were alerted by the actor at 14:35 BST on Wednesday as four local men tried to free the man from brambles.
Local resident Sharon King, who saw the rescue, tweeted that Green "went over the cliff to the casualty. No thought for himself. Lovely man!"
The spokeswoman for Green said: "He tried to get down to him but sadly he was too far down the cliff, so he called the coastguard who sent a rescue crew to bring the man to safety. All recognition should go to them."
A coastguard helicopter winched the man who was shaken but unhurt to the top of the cliff.