Dartmoor injury woman rescued by Tavistock team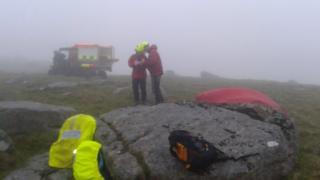 A woman has been rescued from Dartmoor after injuring her ankle in "driving rain and poor visibility".
A team from Dartmoor Search and Rescue in Tavistock found the woman and a companion at Beardown Tors.
They were called at 18.40 BST on Friday by the pair who were unable to walk any further.
The injured woman, 21, was treated in hospital and her companion was taken back to the Two Bridges Hotel.