Natalie Bennett angry as GWR refuse coffee in reusable cup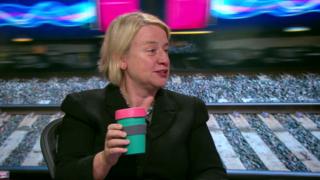 The leader of the Green Party has criticised the "pointless waste" created by a rail firm which refused to serve her coffee in a reusable cup.
Natalie Bennett was travelling on Great Western Railway (GWR) from Truro to Plymouth when she asked for a latte.
A GWR drinks bar worker refused saying there was a risk of injury to her and the member of staff.
GWR said it was "deeply committed to protecting the environment" but it did not want passengers "scalded".
Ms Bennett said: "I went to the coffee bar and said can I have a latte but the gentleman behind the counter said he was very sorry but staff had a memo from the management that they were not allowed to put coffee into reusable cups.
"He said he could 'put the coffee in a disposable cup and I could pour it into your disposable cup.'"
Ms Bennett said the "huge number of coffee cups that are pouring into our waste stream is a huge impact on our environment" and she would be "asking them to change the policy".
The train company said it had to factor in the speed the trains were travelling at when serving hot drinks.
It a statement, GWR said: "Our helpful and friendly staff serve hot drinks on board trains moving at up to 125mph into cups designed for our coffee machines, and subsequently covered with a plastic lid, to reduce the risk of injury to both staff and passengers."
It row comes after TV chef Hugh Fearnley-Whittingstall drew attention to the waste created by the 2.5bn coffee cups thrown away every year in the UK.