Bowsers bail out rain-starved Lundy Island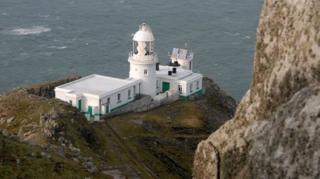 Water bowsers are being transported to Lundy Island to help secure supplies after a prolonged dry spell.
The three mile-long island in the Bristol Channel is reliant on rainfall for its water and recent dry weather has left supplies low.
Each bowser contains 200 gallons of water and restrictions are in place on the island which has 30 permanent residents, a pub and a shop.
South West Water said it was "delighted to be able to help out".
Island manager Derek Green said: "The weather in the first half of the summer has been fairly calm which has been great for our visitor numbers but the lack of rainfall has put pressure on our water supplies."
The charity Landmark Trust, which owns the island, said it was grateful to South West Water for helping ensure no one on the island ran out of water.