Brian Hopkins, smuggler of child sex doll, given suspended sentence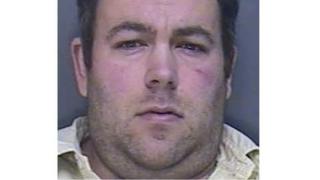 A man who tried to smuggle a child-like sex doll into Britain has been given a suspended prison sentence.
Brian Hopkins, 40, was arrested in October after a Border Force officer at Heathrow Airport found the sex toy addressed to Hopkins' home in Plymouth.
Police then found 600 indecent images of children on Hopkins' computer in November, Plymouth Crown Court heard.
Hopkins has admitted eight charges and was given a 10 month jail sentence, suspended for two years.
Warning: This story contains a graphic image that some readers may find upsetting
Hopkins admitting trying to evade customs legislation regarding the importation of a "child sex doll, which was an indecent or obscene article".
In a landmark ruling in July a judge ruled that child sex dolls constituted obscene items.
Hopkins' 1.2m (3ft 9in) high sex doll was imported from Hong Kong.
He also admitted three offences of possessing extreme pornographic images and four of making indecent child images.
Almost half of the indecent images found were Category A - the "most severe", the court heard.
Judge Paul Darlow said that it was a "very sad fact of life and a dark reflection on our community" that child sex dolls were "becoming part of the paraphernalia of child abuse".
Hazel Stewart, senior officer with the National Crime Agency that investigated the case, said importation of child sex dolls was a "relatively new phenomenon" and they "are a real flag of a sexual interest in children".
"We are working hard with our partners in Border Force to stop them entering the country and then investigating and prosecuting the importers."
Border Force senior manager Julian Doughty said the case was "one of several" where officers' vigilance "has successfully led to the uncovering of offenders with a criminal interest in children".
Ali Rafati, defending, said Hopkins had "very little experience of sexual contact" in his life and had "never acted remotely inappropriately to children".
Judge Darlow said there was a "low risk" of Hopkins offending against children.
He ordered Hopkins to attend a rehabilitation course and barred him from working with young children for life.
Hopkins was also ordered to pay £425 costs.