Row over Devon and Cornwall officer's ambulance wait tweet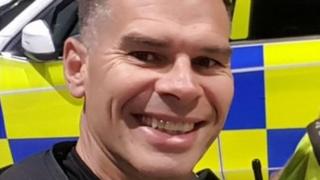 A police officer behind a number of controversial tweets has been criticised for questioning the time ambulances take on 999 calls.
Devon and Cornwall officer Sgt Harry Tangye posted on Twitter: "Cops... are you finding waits for ambulances are taking forever now or even never?"
One fellow officer felt the question was not "helpful or productive".
Devon and Cornwall Police said it was "not commenting on officers' individual tweets".
More Devon and Cornwall stories here
Sgt Tangye has previously tweeted about a 140mph response and said he was "fed up" with drug addicts.
The armed response officer's post came as South Western Ambulance Service NHS Foundation Trust (SWASFT) said it was experiencing "electrical failure".
It said: "Sgt Harry Tangye obviously hadn't heard we had a problem yesterday with our power supply."
The service was unable to receive calls for part of Sunday afternoon, meaning a contingency plan was put in place to use neighbouring ambulance service providers.
Mr Tangye's tweet asked police officers to vote in an online poll in response to the question, with the two options being "yes, much bigger delays" and "no change".
Sgt David McFadden, an officer with Devon and Cornwall Police who is on secondment with the Devon and Somerset Fire and Rescue Service questioned his tweet:
Another police sergeant, using the handle @AnonSSgt, tweeted: "Had a few jobs tonight where ambo have called us we've gone waited over an hour and then cancelled them and took patients to a and e ourselves."
Mr Tangye, winner of the Police Twitter Awards in 2016, said it was "just a generic tweet although police are waiting a lot longer than they used to for ambulances and sometimes [they] can't give us a waiting time".
In August, he sparked controversy after a tweet about drug addicts in which he said he was "fed up" and added: "#TooMuchEmpathy".
He later took down the tweet, saying: "It's too big a subject for 140 characters."
He also came under fire online for tweeting a video of a police car driving at 140mph to a break-in.