Coffin protest 'crass' and 'offensive', says MP Sarah Wollaston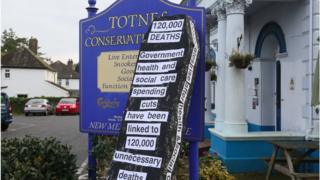 An MP has criticised the "crass insensitivity" of protesters after a coffin was left outside her constituency office.
Conservative Sarah Wollaston, referring to the murder of MP Jo Cox, said the effect of "delivering a coffin effigy" has passed some people by.
The coffin was left in Totnes, Devon in a demo by Save Our Hospital Services.
Organisers said the coffin was symbolic of patient deaths and "cannot possibly be intimidatory".
More on this story and others from Devon
Thomas Mair, 53, shot and stabbed to death Labour MP Jo Cox in Birstall, West Yorkshire in June last year, a week before the EU referendum vote.
The protest on Saturday, which was supported by hundreds of people, was aimed at drawing attention to "cuts and privatisation of the NHS".
Health Select Committee chair Dr Wollaston, who was not in her office when the demo took place, tweeted the coffin was "deeply offensive & upsetting but presume that was the intention".
Exeter Labour MP Ben Bradshaw tweeted his support for Dr Wollaston: "Memo to any @UKLabour members at this event: @sarahwollaston fights tirelessly for NHS and Social Care as @CommonsHealth chair. She also opposes disastrous hard Tory #Brexit. Next time, go canvassing."
Demo organiser Helen Beetham, a member of Totnes Labour Party, questioned why Mrs Wollaston was "so rattled" and said the coffin was a "perfectly legitimate" prop in the "community" protest.
She said the coffin, daubed with campaign messages, "had been used in many demos in Totnes".
"It was a light-hearted, family-based community event with Christmas carols.
"I think it's beyond comprehension to suggest any link with the coffin and the death of Jo Cox," she said.
"Most members of Totnes Labour party are over 70 and are law-abiding people."