Former Exeter UKIP candidate guilty of causing workman's death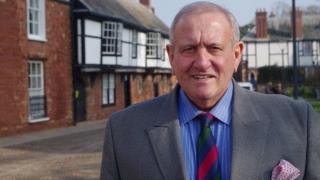 A former UKIP candidate has been found guilty of causing the death of a worker who was crushed in a trench.
Keith Crawford, 74, was convicted at Exeter Crown Court of gross negligence manslaughter and failing to ensure the safety of an employee.
Peter Clements was trapped under mud after a 9ft (2.7m) trench he was digging next to Crawford's swimming pool in Devon caved in on him in 2015.
Crawford, of Ide, will be sentenced at Bristol Crown Court on 22 March.
Crawford, the Exeter UKIP candidate in the 2010 and 2015 general elections, denied both offences, stating that he paid Mr Clements £3,600 to do the work and he was a self-employed builder who was responsible for his own safety.
More on this and other stories in Devon and Cornwall
The court heard that former soldier Crawford refused to hire safety equipment for the job because it was too expensive.
The metre-wide excavation had no sheets or wooden box to support the sides and collapsed on Mr Clements, 48, during heavy rain in January 2015.
He was working with his son Ryan, who escaped and tried to save his father by pulling him out with a strap around his chest attached to a digger arm.
Mr Clements suffered several broken ribs and other crush injuries, and died from cardiac arrest in hospital three days later.