Cat injured in Devon 'car battery acid attack'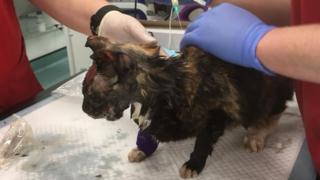 A cat has sustained life-threatening injuries following an apparent acid attack.
"Heartbroken" owner, Lyn Prewer took her pet named Georgie to a local vet in Exeter, Devon on Monday night after it came home injured.
Vets said it looked like a "car battery acid attack" and the cat "might not make it".
Police believe it was a deliberate act and said it is "likely the cat will lose both ears and possibly its sight".
More on this story and others in Devon and Cornwall
The cat left the house on Monday evening but did not return until 19:45 BST on Tuesday.
Mrs Prewer said: "She was burnt right down to the skin on her head, she had no fur left.
"Her ears actually need to be amputated because they are like crisps, they are so badly burnt.
"She had foam coming out her mouth, her tongue was hanging out. Her back was covered in what looked like superglue."
Vets said the acid spread as the cat tried to lick it off its body "in desperation".
Mrs Prewer said described her pet as "gentle" and "loving".
"I couldn't get my head around why someone would do that.
"She's such a gentle, loving cat that when I saw her in obvious distress and pain and the fact it was another human that had done that to her, I was hysterically crying."
A Devon and Cornwall Police spokesperson said: "The animal suffered serious injuries and if it survives, is likely to lose both ears and possibly its sight."
Officers believe it was a deliberate act on the animal and added: "The injuries the cat has suffered are shocking and it is a heart breaking situation for the owner."
The cat remains at the vets where it is undergoing treatment.