Calls for Bournemouth sewage solution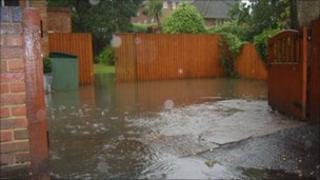 A Dorset woman who has had her garden flooded with raw sewage repeatedly for the past 12 years has called for action.
Annie Christopher said her and her neighbours gardens in Leybourne Avenue in Bournemouth were flooded several times a year.
Wessex Water said the problems were caused by restrictions in the sewage network during exceptional weather.
It said it was spending £200,000 to clear blockages in the next few months.
The firm said that last year it removed several blockages caused by dumped concrete and tarmac.
Mrs Christopher said: "I have lost all my summer and winter crops. My food that help me save money and supposedly gives me the best of fresh veg to keep my son and I fit and healthy.
"I'm just so at my wits end now. I can't put up with it any longer, it's too much. Twice a year I work very hard [at planting and growing vegetables] and it's just gone, completely gone."