Dorset councils appoint new joint chief executive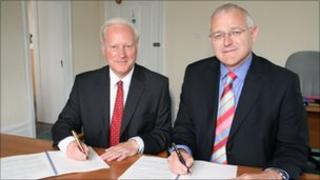 Two Dorset councils which agreed to share services have named their new joint chief executive.
The heads of Christchurch and East Dorset, Mike Turvey and David McIntosh, were forced to fight for the one job with interviews last week.
Mr McIntosh has been named the new chief with Mr Turvey to leave his role in a move set to save £100,000 a year.
The new chief, who has only been in his current position for the last year, will start in January.
He said: "There are some real challenges for the public sector.
Retain independence
"Things are going to be difficult for the future, but we can drive down the cost by sharing services and the two councils believe they can save upwards of £1m by working in this way.
"I'm very excited, it's a challenging prospect but an exciting one."
The position was ring-fenced to the current post holders in a bid to save recruitment costs, the councils said.
Councillors praised the work of Mr Turvey who has been Christchurch's chief executive for 15 years.
Mr McIntosh will manage the services of both councils, serving a combined population of more than 133,000 people.
However, each council will remain independent, retain their own councillors and budget and tax payers' money from one council will not be spent by the other.
Other senior management cuts as part of the new sharing plan will save a further £200,000 a year.