Dorset's Lulworth Castle to cut events and jobs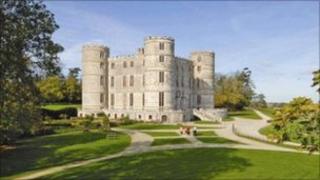 A tourist attraction in Dorset is cutting jobs and reducing activities due to falling visitor numbers.
Lulworth Castle and Park opened in 1998 and saw visitor numbers grow to 80,000 in 2008 but the site has struggled in the recent economic downturn.
The castle, park and walks will remain open but the animal farm, cafe and shop will close at the end of December.
Private functions, including the Camp Bestival music festival, weddings and charity event, will still go ahead.
But other attractions, like medieval jousting and historical events, will be axed.
The number of job losses has not yet been revealed.
The Weld family, which owns the estate, said visitor numbers were expected to reduce to about 20,000 a year.
James Weld said "The family are very disappointed to have to take the decision to reduce our activities and the direct effect that this will have on those people who are being made redundant at a difficult time.
"We have continued to support this part of our business for the last 12 years, but the economic prospects over the next few years make it impossible to justify further investment."
A "Christmas Fun" event will still go ahead and will run from 19-31 December, excluding Christmas Eve and Christmas Day.