Stuck driver cut free from lorry in Poole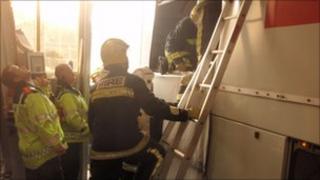 A lorry driver had to be cut free after becoming trapped in a small cavity on his vehicle while making a delivery in Poole, Dorset.
Firefighters were called to Nuffield Industrial Estate at 1250 GMT after the man got stuck between the cab and trailer of the articulated lorry.
The incident happened during a delivery at a glass warehouse in Nuffield Road.
Crews used hydraulic cutting gear to free the driver who was taken to hospital by ambulance.