Bournemouth Spur Road £20m government funding refused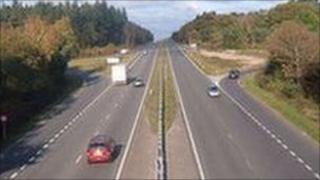 Drivers face years of delays and disruption on a busy dual carriageway after £20m funding for repair works was turned down by the government.
Dorset County Council planned to start work on the A338 Bournemouth Spur Road in September but was awaiting funding following the Spending Review.
Transport Secretary Philip Hammond said the bid had been unsuccessful.
Ad hoc work will now take place over a number of years rather than the six months originally planned.
Both Dorset and Bournemouth councils will foot the bill, at a cost of about £1m a year.
'Extremely disappointing'
The road was not among the major transport schemes approved for government funding before the general election.
Dorset County Council had to review the cost of the upgrade and submit a new bid, shaving £7m off the original cost.
But the Department for Transport told the council the saving was "insufficient" and it would not be included among 32 schemes approved or taken forward for further talks.
Peter Finney, Dorset County Council Cabinet member for transport, called the decision "extremely disappointing".
"The costs in terms of traffic delays as a result of piecemeal maintenance will be badly felt by road users in the south-east Dorset conurbation," he added.
Between November 2009 and March 2010 sections of the carriageway were closed while the advance work took place.
The government said it will invest more than £1.5bn over the next four years on transport schemes.
It said it had saved £45.5m after asking local authorities to reassess their proposals.