Dorset 'surf rockers' Bel Casino release three-track EP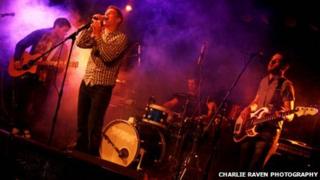 Dorset band Bel Casino will release a new three-track EP to coincide with their winter tour of the south.
Somewhere New will be released on 27 February as a free download via their website.
The Bournemouth based group featured on the BBC Introducing Demo Panel for BBC South and are in the quarter finals of the Dorset Music Awards 2011.
Drummer of the band JD, said: "Our main objectives for the band at the moment is to simply widen our fan base."
He added: "That means attracting more of the right attention from the music industry - whether that be labels or management companies.
"For us that means reducing any barriers to accessing Bel Casino's music. The biggest of all being cost."
'Seaside influence'
The three-track EP was recorded in December 2010 at Conversion Studios in Milton on Stour, Gillingham, with producer Owen Thomas.
It features the tracks Somewhere New, Bridges and 1000 Hearts.
JD said: "We are very much a product of the south coast.
"Life and love by the sea has worked its influence into our music in an evocative way.
"Whether you view the music live or lock into a recording, the sights and sounds of the streets and beaches we walk are brimming out of our songs."
Self-proclaimed "acoustic surf rockers" Bel Casino formed in 2008.
They are Chris Beane - lead vocals and rhythm guitar; Josh Lines (Joshwaa) - lead guitar and backing vocals; Ollie Parker (Basshoven) - bass guitar and backing vocals; and Johnny Drennan (JD) - drums and percussion.
The band will perform at Smokin' Aces, Bournemouth on 25 February and The Winchester, Bournemouth on 3 March.