Action vowed over Dorchester arson attacks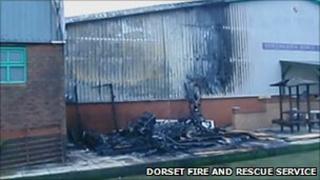 Dorset fire service and police have vowed to take action following a spate of arson attacks in Dorchester.
More than 40 firefighters tackled a blaze at Dorchester Bowls Club in Armada Way early last Wednesday.
A fire at Stag Fencing in Alington Road on 19 January and a blaze at Dorset Shredding and Waste Paper on 20 February are also being investigated.
Fire and police officers have agreed to put up posters in the town urging witnesses to come forward.
Owners of commercial properties have also been asked to take extra care when closing down for the night.
Fire officers will also be visiting the sites of the attacks to offer advice.
The fire service said the three fires had cost it up to £14,000.
Insp Les Fry, from Dorset Police, said: "The meeting highlighted the areas where we could all benefit from closer working.
"In respect of the most recent fires in the town, we would welcome any information from the public around suspicious behaviour or unusual activity in the areas of any of the three fires."
Steve Waller, fire service district commander, said: "These separate incidents have cost the tax-payers thousands and thousands of pounds and were totally avoidable."