Brownsea Island is renamed for Red Nose Day 2011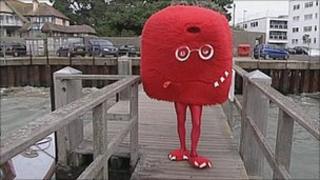 Brownsea Island has been renamed Redsea Island for Red Nose Day 2011.
Chucklechomp, one of the charity's Red Nose mascots, has taken over the National Trust-owned island.
He caught the ferry from Sandbanks to reveal the name change to Emma Stokes, visitor services manager for the National Trust.
Ms Stokes said: "Chucklechomp has set a fundraising target of £250 before we can revert our name back...[and] you just can't say no to a giant red nose."
People in the South of England raised £4.3m for Red Nose Day 2010 and since then Comic Relief has funded over 37 projects in the region.