Weymouth Olympic relief road to open on Thursday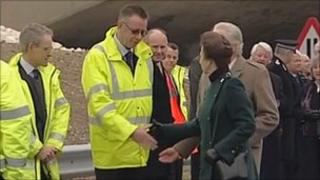 Weymouth's £87m relief road is to open on Thursday after a number of delays.
The road has been built to ease traffic during the Olympic 2012 sailing events, which will be held in Weymouth and Portland.
It had been due to open in December but the southern part took longer to complete than planned.
Drivers have been warned of a brief delay on the A354 while barriers are removed and people directed on to the new road on Thursday.
'Historic moment'
The delay in opening were caused by exceptionally wet or cold weather at various stages of the construction process, the council said.
The Princess Royal "officially opened" the site in December.
Leader of Dorset County Council Angus Campbell said: "This is a historic moment that residents of Weymouth and Portland have been waiting for since 1948, when a relief road was first proposed`.
"[It] will help support the economic development of the borough through delivering reliable journey times on the strategic A354, used by more than 35,000 cars and lorries every day."
The new Littlemoor Road will open in around three weeks' time.
While work will continue over the next four months to complete Bincombe junction, the park and ride site as well as sections of footpaths and cycleways.
Weymouth and Portland will host 400 international sailors at the 2012 Olympic and Paralympic Games.
The events are to be held at the Weymouth and Portland National Sailing Academy at Osprey Quay.