Dorset lollipop patrols 'will be saved', says councillor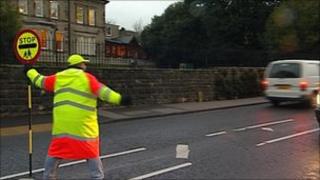 School crossing patrols in Dorset under threat from spending cuts will be saved, a councillor has said.
Tory councillor Toni Coombs told a pupil taking part in BBC News School Report that the 65 patrols would be reprieved regardless of a consultation.
The county council originally said volunteers or other funding had to be found otherwise they would be axed.
The authority has now extended funding until 2012 but said it would be wrong to "pre-empt" a final decision.
Money for 10 of the patrols had been due to end in July with the other 55 ending in December, but both have been extended until March 2012 - the end of the public consultation.
'Savings needed'
Mrs Coombs, member for children's services, made her comments in an interview with a schoolgirl at Verwood Middle School last month as part of the BBC's School Report Day which will see children produce their own news stories on 24 March.
She was asked if volunteers or additional funding could not be found would the council continue to pay for the service?
The councillor said: "We will still have to make cuts but we won't make the cuts in the school crossing patrols."
The idea, which could save £200,000 a year in salaries, is among a number of measures agreed by the Conservative-run council in December to help save £31.1m in 2011/12.
If alternative funding or volunteers are found, the council would remain responsible for the management, supervision and training for the service.
Peter Finney, Dorset County Council member for highways and transportation, said: "None of the decisions about where to make these necessary savings have been taken lightly.
"However, the level of savings needed means we need to look at all our services, including discretionary ones such as school crossing patrols.
"The consultation with schools, local councils and community groups is continuing.
"At this stage, it would be wrong for us to pre-empt the consultation before everyone has had the chance to have their say."
You can hear Verwood Middle School's special report on Radio 4's You and Yours programme at 1200 GMT on Friday 18 March.