Royal Fleet Auxiliary ship's last Portland Port call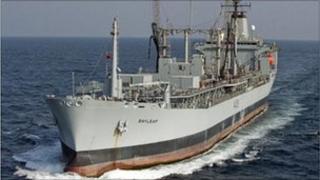 The Royal Fleet Auxiliary ship Bayleaf will sail into Portland Port for the last time on Wednesday.
The tanker, which has travelled the world for 29 years keeping Royal Naval ships supplied with fuel, will retire after its final voyage on Saturday.
RFA Bayleaf is being laid-up under Ministry of Defence savings.
The ship has been acting as the Arabian Gulf tanker for 12 years, in support of the Royal Navy and coalition warships in the Middle East.
'Proud service'
It has supported UK and coalition warships through the Falklands conflict and both Gulf wars, and during humanitarian operations.
RFA Bayleaf, the third ship to bear the name, has sailed 1.4 million miles supporting ships worldwide, conducting over 5,000 refuels.
"She has a long and proud service history and we, the final crew, are honoured to be a part of her story," said a spokesman.
Built at Cammell Laird Yard, Birkenhead, it was launched as RFA Bayleaf in October 1981 and entered service in 1982.
Its final voyage is from Portland to Devonport, Devon.