Dance South West gets funding boost from Arts Council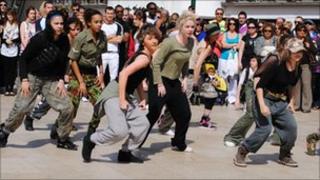 A Dorset dance company will see its funding more than double over the next three years, despite other Arts Council spending cuts across the county.
Bournemouth-based Dance South West will receive £403,046 by 2014/15 compared to the £180,549 it currently receives.
Kate Castle, executive director, said it would put the group "on the national map" as a major resource for dance.
The Arts Council will fund 10 organisations across Dorset although a number will see their budgets drop.
They will jointly receive more than £12m funding for the three years from April 2012.
Olympic art
Activate Performing Arts, which works across Dorset will also see a funding increase from £58,317 to £346,350 and Dorset Arts Centre an increase of 55%.
Artsreach, Bournemouth Symphony Orchestra, Bridport Arts Centre, Poole Lighthouse arts centre and Walford Mill Crafts, all see an 11% reduction.
However, Dorset County Council's DepARTure programme and Bridport-based PVA Media Lab have failed to make the Arts Council's national portfolio.
The council-run education project said it would continue to receive support through a lottery funded initiative from the Arts Council.
Meanwhile two groups - Arts and Health South West and the B-Side Multimedia Arts Festival - have been awarded funding from the Arts Council for the first time.
B-Side develops and commissions work from artists to animate public spaces in Weymouth and Portland, which are hosting the sailing events for next year's Olympics.
The Arts Council had its budget cut by £100m by the government as part of the Spending Review.