Lack of church organists prompts young musician project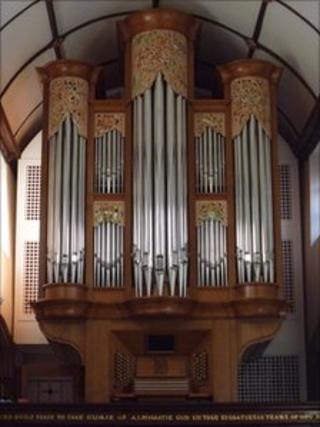 Young musicians in Dorset are being encouraged to take up the organ due to a lack of organists in local churches.
The churches at Seaborough, Drimpton and at St John's, Portland, are now using CD recordings of organ music during services.
The Pipe Up! project covers the Diocese of Salisbury and organ workshops are being held in Dorset and Wiltshire.
They are aimed at seven to 18 year olds who have reached Grade 2 or above on the piano.
Dorset workshops are already established at St Mary's in Dorchester and new venues include Sherborne Abbey and the Lyme Regis Organ School.
Paul Taylor, Archdeacon of Sherborne, has played the organ for 40 years.
"Live music supports singing and brings a life to it that can't be replicated by recorded music," he said.
"We want to prevent churches from having to use CDs.
"The CD player broke down once at St John's [on Portland] when I was taking the morning service, so I had to play and preach at the same time."
'Uncle image'
Robert Fielding, the Salisbury Diocesan church music adviser, says the organ has "fallen out of favour" because it is difficult to learn and musicians cannot practise at home.
"You need to practise on a church organ," he said.
"Private schools usually have an organ too, which means that pupils at these schools are more familiar with the instrument.
"School children elsewhere are less familiar with the organ, which is why they probably don't consider playing it.
"We hope the workshops will help to fill the organ benches of the future."
Alistair Simpson, 19, has been attending Pipe Up! workshops for three years in Dorchester.
He describes the organ as having an "uncle image".
"Old folk are seen to be the ones playing it," he said.
"It's very sad because the organ is such a fantastic instrument."
Mr Simpson sings in the choir of St Peter's in Dorchester and plays the organ every fourth Sunday at Buckland Newton.
He said: "I have played the piano since I was six and always looked on in wonder at the organ.
"You use your feet as well as your fingers a lot more when you play the organ and that took quite a lot of getting used to."
Richard Godfrey teaches the organ at Lyme Regis Organ School and has played for 60 years.
Seven young people regularly attend his workshops.
He said: "We currently have three high flyers and several others who can play to church service standard which is great."
Dr Godfrey recently moved to Lyme Regis to be close to the organ at the school to allow him to practise more.
"It's a new organ which is unusual. It's from Slovenia and has some fine carvings by local craftsman David West.
"It's much admired and has an inspiring sound."
Pipe Up! workshops are also running in Chippenham, Calne and Edington in Wiltshire.