Dorset headquarters of British Red Cross to relocate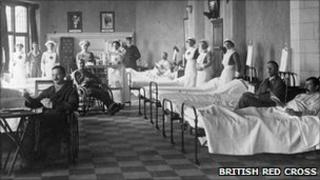 The Dorset headquarters of the British Red Cross, in Dorchester, is to relocate to Poundbury.
The charity, which this year celebrates its centenary in Dorset, is currently located in Acland Road, Dorchester.
It will be relocated in purpose-built premises, at Parkway Farm in Poundbury, after it outgrew its existing buildings.
The headquarters, which will move on Thursday, has been based in Dorchester since 2003.
The first Red Cross Voluntary Aid Detachments (VADs) were established in Dorset on 24 March 1901.
'No care change'
All current Red Cross services will relocate to the new site, including short-term loans of medical equipment, such as wheelchairs for people with a disability or illness.
Graham Kerridge, senior service manager for the Red Cross in Dorset, said: "With the exception of our medical equipment service where people will need to collect or return items from and to the new office, our service users will not experience any changes to the care they receive as a result of this move."
The Dorset charity has more than 300 volunteers, and provides a range of services including fire and emergency support, and first aid cover at public events.
The main Centenary Day celebration of the British Red Cross in Dorset takes place on 18 June at Maumbury Rings, Dorchester.
In addition there will be an exhibition of Red Cross memorabilia at the Bovington Tank Museum, starting in May.