Artists start work at Dorset's sand sculpture park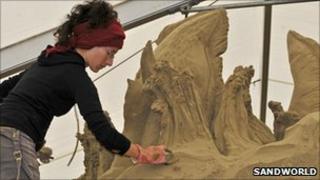 Artists have started work at the UK's first competitive sand sculpture park in Weymouth.
Sandworld, which will exhibit sand and water creations with a maritime theme, will open on 22 April.
The sculptures will be created by competing world-class artists until 9 April and members of the public will be able to vote for their favourite.
The tourist attraction, at Lodmoor Country Park, will see 1500 tonnes of sand used to create the 3D models.
Most of them will be housed under a marquee.
Mark Anderson, who has created the park with local businessman David Hicks, said: "Sandworld is a natural progression from my seafront exhibition and builds on the worldwide success of sand sculpting events."
Mr Anderson, who recreated Windsor Palace in sand for the Queen during her visit to Weymouth in June 2009, will continue to run his seafront exhibition, which was started by his grandfather Fred Darrington in the 1920s.
Sandworld will open until the end of October, and the creator of the winning sculpture will claim the "UK's 1st International People's Choice Sand Sculpture Master" title.
Mr Hicks said the park would reopen as a "Weymouth winter wonderland" attraction during the Christmas holidays.
He added: "We will then be asking the sand masters to come back in 2012 to create masterpieces on an ancient Greek Olympic theme."