Paralympic hopeful Ben Clark wins gold at spinal unit games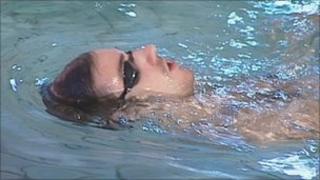 A Dorset swimmer who was left paralysed following a freak accident almost a year ago has won his first gold after getting back in the pool.
Ben Clark, of Hamworthy, near Poole, had hoped to try out for a place to represent his country after training all his life.
But last July the 20-year-old broke his neck.
Mr Clark, who is eyeing a place in the 2012 Paralympics, won at the Inter Spinal Unit Games in Stoke Mandeville.
The contest features participants from 14 spinal units across the UK who take part in a number of sports including swimming, archery, hand cycling and table tennis.
Mr Clark, who represented the Duke of Cornwall's Spinal Unit, Salisbury, won gold in the 25m backstroke and breaststroke, 50m freestyle and was placed overall male tetraplegic winner.
He also came second in the archery.
'Big advantage'
Mr Clark said it was good to get back in the pool to race against others.
"I won by over half a length in the 25m ones and 50m by a length.
"It was absolutely amazing, it just felt good to be getting some competition and to blow the cobwebs away.
"Some of them had a big advantage over me so I did quite well."
Mr Clark has moved into his own flat in Poole after leaving the specialist unit where he underwent his rehabilitation.
It means he can now swim at the nearby Dolphin Swimming Pool three times a week.
In June he hopes to be classified by top swimming coaches which will determine which future events he can compete in.
"I've got a good routine going," he said.
"I swim three times a week and I'm in the gym twice a week.
"I'm living by myself, it's so much better. I have people coming in and doing things for me but I still have an amount of independence.
"I've put on all my muscle being back home.
"I have a good group of friends and family around me so I'm coping pretty well."