Marine Adam Brown's family to paddle River Stour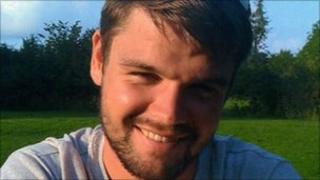 The family of a Royal Marine who died in Afghanistan are planning to paddle the length of the River Stour in Dorset to raise money for charity.
Marine Adam Brown, 25, from Frimley in Surrey, was killed in an explosion on 1 August 2010 while on foot patrol in the Sangin district of Helmand province.
His uncle Mike Crankshaw and brother James will begin the trip on 25 May.
The money raised will go towards buying a beach hut in Mudeford for use by injured marines and bereaved families.
Mr Crankshaw, from Puddletown in Dorset, said: "Adam was a selfless man who thought about others more than he thought of himself.
Childhood dream
"A month before he died, whilst home for two weeks' rest and recuperation, he and his wife Amy, who he married just eight months before he died, spent time visiting wounded comrades from 40 Commando at Headley Court and Selly Oak Hospital.
"When he died, Adam's family wanted to continue caring as Adam had done.
"We raised £30,000 in his name for the Royal Marine's Charitable Trust Fund - £10,000 of this was raised by a charity auction in Puddletown.
"Having spent family holidays on Mudeford Spit, Adam's ambition was to own a beach hut there.
"His family has now set up a fund in order to purchase a beach hut, for use by injured Royal Marines, as well as bereaved families."
Mr Crankshaw and Mr Brown will begin paddling in their Canadian canoe from Stourhead in Wiltshire, 97km (60 miles) through Dorset, to arrive at the Black House at the entrance to Christchurch harbour where the Stour meets the sea on 29 May.
Marine Brown joined the Royal Marines in 2004 and was based at Norton Fitzwarren in Somerset.
He was part of a reassurance patrol from 3 Troop, Alpha Company, helping to provide security for local people, when he was killed by improvised explosive device (IED).