Dorset and Somerset Air Ambulance attends 8,000 calls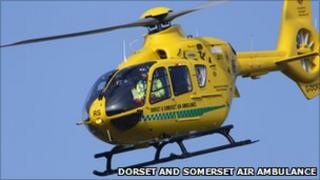 The Dorset and Somerset Air Ambulance (DSAA) has completed its 8,000th mission since its launch in March 2000.
The milestone call out was to take an 18-month-old burns victim from Shaftesbury to the specialist burns unit at Salisbury District Hospital.
During 2010 the charity attended 788 incidents.
Of these incidents 51% (403) were in Dorset and 46% were in Somerset (360), with the rest crossing county borders into Devon and Wiltshire.
The DSAA's busiest month was May, with 92 call outs.
Its busiest day of the week was Sunday.
In 2010, 411 patients were flown to hospital: 33 % (134) were taken to Dorset County Hospital, Dorchester; 18% (73) to Musgrove Park Hospital, Taunton; 15% (62) to the Royal United Hospital, Bath; and 9% (37) to Frenchay Hospital, Bristol.
Twenty nine patients were flown to hospital in Poole, 22 to Salisbury, 18 to Yeovil, 14 to Bournemouth, and seven to Weston-super-Mare.
The remainder went to hospitals outside the two counties as far away as Southampton and Plymouth.
'Not celebrating'
Bill Sivewright, DSAA's chief executive officer, said: "Every one of the missions we fly is the result of somebody suffering a potentially life-threatening injury or accident. So, we are not celebrating this milestone.
"We have helped to save countless lives over the years because we can reach any part of the two counties in 19 minutes and we know that patients who receive treatment within the first hour - the 'Golden Hour' as it's known - have a much better chance of survival.
"The 8,000 call outs in 10 years clearly demonstrates the need for our air ambulance."
The DSAA costs £3,800 a day to run. It does not receive any direct government or National Lottery funding.
"Without the support of individuals, businesses and organisations throughout Dorset and Somerset, we simply could not keep going," Mr Sivewright added.