HM Coastguard consultation draws to a close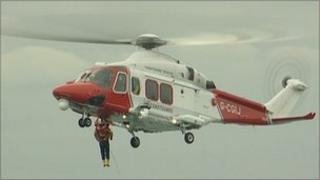 The public consultation over proposed cuts to the UK's coastguard service has ended.
Ministers are looking at closing 10 of the 18 round-the-clock coastguard centres, including Portland in Dorset.
The consultation on the plans, which are intended to reduce costs and modernise the service, has already been extended by six weeks.
Critics of the plans argue the cuts will lead to a lack of local knowledge and may ultimately cost lives.
If agreed, the proposals put forward by the Maritime and Coastguard Agency (MCA) would see the UK's only 24-hour coastguard centres based in Aberdeen, Dover and the Southampton/Portsmouth area. The other five would operate only during daylight.
The responses to the consultation will be evaluated by an independent review team representing a cross section of HM Coastguard staff which has been put together following discussions with the Public and Commercial Services Union (PCS).
Local knowledge
Under the plans, HM Coastguard, Portland - which is responsible for 145 miles (233km) of coastline and 2,300 nautical square miles off the coast - would be shut down after the Olympic sailing events with a potential loss of 27 jobs.
PCS member Sarah Callaby Brown who works at Portland said: "Coastguards aren't against modernisation and see the need for financial cutbacks, but we do ask the government to look closely at all the responses and suggestions and take time to discuss the way forward with people in the know.
"The prospect of losing a job I love, with years of experience to offer, is tragic. We, as professional coastguards at Portland, will maintain a safety net for our regular sea farers and those visiting before during and after the Olympic Games," she added.
In March, Transport Minister Mike Penning extended the consultation period by six weeks, saying he had already received more than 1,000 submissions.
He told the Commons: "All of the control centres I have visited... accept that we have to modernise the service and go forward.
"The robustness and resilience of the service isn't there. We have had some fantastic submissions where they have actually engaged in going forward."
No ministerial decision will be made until the Transport Select Committee publishes its report on the proposals to modernise the coastguard service.