Emily Longley: No Dorset Police contact over 'stalker'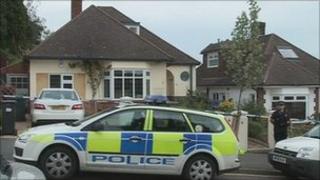 An aspiring New Zealand model found dead in the UK had not contacted police after writing on Facebook that she had a stalker, police have confirmed.
Emily Longley, 17, was found dead at a bungalow in Bournemouth, Dorset, on Saturday. She was a student at Brockenhurst College in Hampshire.
Her death is "unexplained" and toxicology tests are due to take place.
A 19-year-old man and 17-year-old boy arrested by Dorset Police in connection with the death have been bailed.
A Dorset Police spokesman said: "We have clarified that Emily had not contacted Dorset Police prior to her death."
He said her stalker remarks on social networking site Facebook were not a line officers were presently pursuing but said all information available to officers "would form part of the inquiry".
Deluge of messages
Describing the 17-year-old as "beautiful and wonderful", her family said they were "very grateful" for the sympathy and support they had received.
They added there had been a great deal of "distressing speculation" about how she had died.
"The deluge of messages of regret and tributes to Emily on Facebook has been astonishing," a statement read.
"The number of people who knew her and loved her is amazing.
"There has been a great deal of distressing speculation in the media about how Emily died and we ask everybody to join us in waiting patiently for the police to complete their investigation."
Police found Miss Longley dead in the bungalow in Queenswood Avenue shortly before 1000 BST on Saturday.
A post-mortem examination has failed to reveal the cause of her death and toxicology test results could take several weeks.
An inquest has been opened and adjourned.
Police are appealing for witnesses.