Dorset driving offence excuses revealed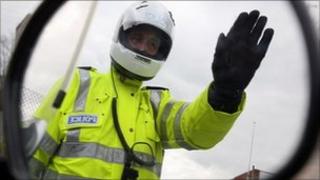 Buying a cucumber and going out to get bread are among the excuses given to police by motorists trying to explain breaches of road rules, it has emerged.
Dorset Road Safe has compiled a list of the excuses from drivers in the county.
They included a woman stopped for speeding, who told police: "I have to get to the shops as I don't have any bread at home."
More than 20,000 offences have been recorded by police since the "No excuse" campaign began in January 2010.
It was launched in an attempt to reduce the number of casualties on Dorset's roads.
Dorset County Council road safety manager Robert Smith said: "Some of the excuses given by motorists beggar belief.
"They show the scale of the challenge we face in trying to encourage the irresponsible minority of motorists to give more thought to their actions."
Another woman, when asked why she had not belted in any of the three children in the back of her car, replied: "They're not my children."
One man who was stopped for using his mobile phone while driving was asked by the police officer whether the call was an emergency. The driver replied: "Actually, no - my wife was calling me to remind me to get a cucumber."
Despite the number of driving offences highlighted in the list, last year saw the lowest number of fatalities and serious injuries recorded on roads in the Dorset County Council area.
The Dorset Road Safe scheme is run by agencies including Dorset Police, Dorset Fire Service and Dorset County Council.