Dorset County Council backtracks on unpaid leave proposal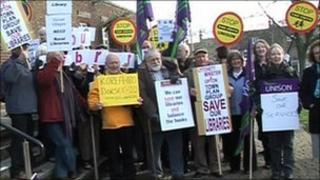 Money-saving proposals forcing workers to take 12 days of unpaid leave a year have been scrapped by Dorset County Council, after opposition.
Trade unions have pushed the Conservative-led council to revise its proposals for saving £31.1m in 2011/12.
The council hoped £4.4m could be cut from staff working conditions. New plans save £1.3m so may require more redundancies.
A decision will be made at a council meeting on 24 May.
Compulsory redundancies
Councillors are looking at the proposals to achieve a "collective agreement" with unions, which members approve by ballot.
Suggestions include promoting voluntary unpaid leave, ending the subsidised car leasing scheme and charging residents overtime and call-out payments.
Another proposal is to reduce the period of salary protection if people are moved to lower-paid jobs from three years to 18 months.
Previously the council asked employees to take a 5% pay cut by taking 12 days of unpaid leave in 2012 and 2013, an idea which is now scrapped.
Pamela Jefferies, Unison branch secretary, said: "Obviously we're not happy with what is being proposed but it's an improvement on where we were."
In December the council announced more than 500 jobs would be lost out of about 4,500 non-school staff.
'Terms and conditions'
Mrs Jefferies accepted that the revised plans may result in more redundancies, saying: "Next year's going to be even worse in terms of cuts. There will be more scope for compulsory redundancies.
"We will try to mitigate the effects as far as possible. Unfortunately when your terms and conditions are cut it's very difficult to get them back."
The council has to find savings of £55m by 2013/14, with the majority of cuts made in 2011/12.
Angus Campbell, leader of the council, said: "We have been listening to the views of staff and working very closely with union colleagues to try and find a way forward."
He added there were "some tough decisions".