Men's 'lucky escape' from Dorset light aircraft crash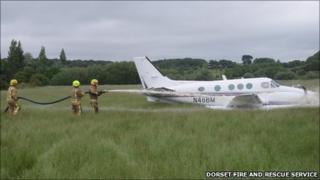 Two crew members were "lucky" to escape a plane crash near a Dorset golf course that "could have been fatal", a witness has said.
The twin-engine aircraft performed an emergency landing near Dudsbury Golf Course, Hurn, at about 1230 BST, narrowly clearing a hill.
Both men walked from the aircraft and signalled they were unhurt to onlookers.
Dorset police, fire and rescue services and an ambulance attended the scene.
At the height of the incident Dorset Fire and Rescue Service had about 30 firefighters on the scene.
They used foam to prevent any fuel igniting.
Both men were taken to hospital by ambulance.
'Pancaked down'
Witness Alan Pearce said he was dog-walking by the River Stour when he heard "what I thought was a slightly strained engine noise".
He said: "The plane was flying away from Dudsbury Hill then sort of turned port left and I realised it was heading straight for me.
"Me and the dog legged it a bit - fast. The plane was pretty well directly over my head, about 15 to 20 feet above.
"It's the nearest I've ever been to a plane crash.
"It went through trees on the opposite bank and pancaked down into the field opposite.
"It could have been fatal, they could have crashed into the river.
"They were very lucky."