Dorset women offered free birthing pool hire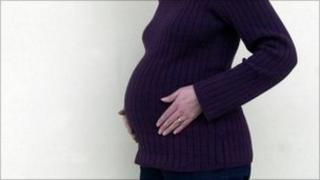 A birth group in Dorset is offering free birthing pool hire to women who want water births at home.
The Dorset Home Birth Group, based in Charlton Down, has been awarded funding from Dorset County Hospital to buy two inflatable pools and sterile liners.
Mothers-to-be will only need to pay £30 for a liner. Hiring a pool can cost up to £400 commercially.
Claire Williams, the co-founder of the group, said: "It's a brand new service for Dorset."
The service has been running for two months and three bookings have been made for the pools in June.
Each inflatable pool has an inside step and measures about 2m (6.5ft) in diameter.
'Check foundations'
Mother-of-two Ms Williams said women who want to use a pool do not need a big space in their homes.
She said: "As long as you can blow the pool up and midwives can have access all around the pool, that's all that's needed.
"We always say check the foundations of the house, especially if you're considering having it on the first floor.
"And you probably need to like water in order to get the maximum benefit from a water birth."
Ms Williams, who runs the group with another mother, added: "Home birth is the safest option if you're having a normal and straight forward pregnancy."
The Dorset Home Birth Group was set up in June 2008 and provides help, support and advice to woman thinking of having their baby at home.