Portland painting could fetch £35,000 at Christie's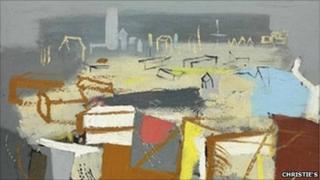 A painting of a Dorset town by artist John Piper could fetch up to £35,000 at auction in London.
The artwork entitled "Portland" was painted in 1953 and goes on sale at Christie's in London on 26 May.
The oil on canvas painting is part of a collection of 20th Century British and Irish art.
John Piper, who died in 1992, first visited the Isle of Portland in 1920 and described it as a "very important" discovery to him.
'Magnificent disarray'
An exhibition catalogue published after his death included his own description of the first trip.
"I think it was in the late 1920s that I first went there [to Portland] in a very old Morris Cowley...," he wrote.
"I am a map-lover and Portland looks too extra-ordinary for words on the map, so does the adjoining Chesil beach.
"At that time Portland Bill was much more untidy, with great blocks of stone lying about on the low quarry shore in magnificent disarray.
"The derricks for loading the blocks onto the boats stood among a very small scatter of beach huts, dominated by the great triangular, pyramidal sea-mark and the black and red striped lighthouse.
"The foreshore is now more ship-shape, holiday makers come in crowds and there are ranks of beach huts. Inland too there is a lot of development but the character remains."
John Piper was born in Epsom Surrey in 1903 and was made an official war artist in 1944.