Dorset school's biomass boiler plan revealed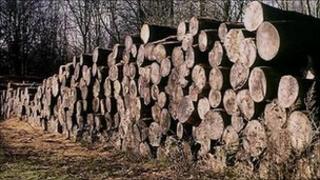 Plans for a biomass boiler and fuel store at a school in Dorset are being revealed to the public.
If proposals at Merley First School in Wimborne go ahead, it could save the school £4,000 a year in fuel bills, Poole Borough Council said.
The 60kW boiler would burn wood pellets and is aimed at reducing CO2 emissions.
The cost of the boiler is not being revealed at this time but would be part-funded by the council's local strategic partnership.
Fuel savings will be accessed under the Renewable Heat Incentive, a new government-backed tariff scheme due to be introduced in July.
'High cost'
The project is part of a more ambitious proposal by the council to install a biomass boiler in Sterte, Poole - heating houses and other buildings in the residential area.
This is currently on hold due to "high capital cost", according to Mike Harrison, head of technical services at Poole Housing Partnership, which is part of the council.
He said: "Should the government's Renewable Heat Incentive and/or the cost of electricity rise significantly we would look again at this renewable energy.
"In the meantime we are also looking at other technologies such as air to water heat pumps."
Plans for Merley First School's boiler will be revealed at the school between 1530 and 1730 BST.
The responses received from the public event will form part of the formal submission of the planning application for the boiler system.
If approved by the local planning authority, it is proposed the installation of the boiler will take place at the school during the summer.
After energy saving, biomass heating provides the most cost-effective way of reducing CO2 emissions and the amount of green waste sent to landfill, according to a council spokesperson.
Biomass boilers can also use wood logs or chips.