Dorset town voted 'Coach-Friendly Town of the Year'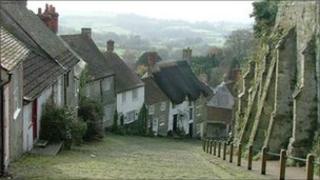 A Dorset town has been voted "Coach-Friendly Town of the Year" at the Coach Tourism Awards 2011.
Shaftesbury, the home of Gold Hill which is known as the street used in the Hovis bread advert, was shortlisted along with five other UK towns or cities.
David Taylor, manager of Shaftesbury TIC, said they were proud of their heritage and keen for coach parties to stay in the town.
Stuart Render, editor of Coach Monthly, said: "Shaftesbury was up against many of the UK's leading destinations attractions, so this is a well deserved and a significant achievement."
The coach parking permits are paid for by Shaftesbury Chamber of Commerce, the local Tourist Association and from the voluntary-run Tourist Information Centre's funds.
Coach tourism is said to be worth about £2.35bn to the UK economy.
The market town, which has two coach parking spaces, offers free parking permits and refreshments to drivers.