Hypnotist David Days fall during Dorset show 'was planned'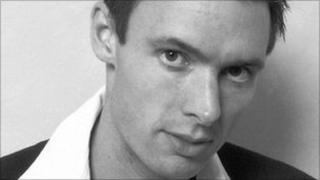 A hypnotist who "knocked himself out" while three people were under hypnosis planned the stunt, his manager said.
David Days was performing at Portland's Royal Manor Theatre on Friday when he "tripped" over a participant's leg.
His manager Tara Nix told BBC News on Saturday it was an accident and Mr Days was "out for a little while" before he recovered and "woke up" the volunteers.
She has now said it was a planned test to see if hypnotised subjects would remain in trance or wake themselves up.
Ms Nix said: "We never imagined that the world would be so interested in the events... but now as a result of the enormous public interest, we feel that we must explain the situation correctly.
"Currently, David Days is working on a television pilot show, which explores the untold and unanswered theories and questions about hypnosis.
"On this particular occasion, he was testing a hypothesis to see whether hypnotised subjects would remain in trance, or wake themselves up, if something should happen to the hypnotist while they were hypnotised.
"We would like to confirm, once and for all, that the 'fall' was planned, and was all part of the act."
'Bruised'
She said all three hypnotised guests had previously been made aware of the nature of the experiment and were under Mr Days' "close supervision at all times".
"All participants had given written consent to take part, prior to the show, and were completely comfortable with the proceedings at all times," Ms Nix said.
Following the incident, the crowd were told to leave.
One audience member, Fiona Faye, contacted the BBC worried that Mr Days "had actually hurt himself".
"At this point we become very worried not only for David Days but also the guests that were onstage oblivious to anything as they were still hypnotised.
"They simply just sat there 'asleep'."
But doubts about the "accident" emerged when Alan Coman, treasurer of the Royal Manor Theatre in Dorset, said on Saturday night that he believed the incident had been "a joke".
But Mr Days, who said in a Facebook message that he was "bruised" but "completely fine", initially refused to comment on the claims on Sunday morning until his manager later released a statement.