Olympic police in Dorset secure £19m grant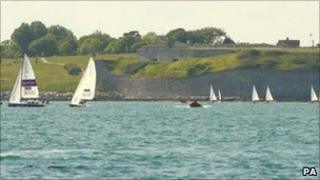 Dorset Police has revealed it has secured more than £19m from the Home Office to help fund security during the 2012 Olympics.
Up to 50,000 extra visitors a day are expected as Weymouth and Portland host the Games' sailing events.
Dorset Police told the government last year it estimated the costs of the operation would come to about £30m.
Chief Constable Martin Baker said a grant of about £19m had been secured but he was hopeful for more money.
He vowed that any costs would be kept separate from the county's own police budget.
'Light touch'
Mr Baker said: "We are benefiting from a separate Home Office Olympic security grant for this operation.
"This is not taking away anything from the day-to-day policing of Dorset.
"It is not being funded in the same way that Dorset Police is funded.
"So far we have secured over £19m... and there are other business cases that are still going through that we are confident will be successful."
He also promised a "light touch" security operation during the event next year.
The government has already warned Dorset it cannot promise the £30m requested due to other budget demands.
But it said money will be made available for all vital requirements.